Presenting a New Partnership
Vijilan and ASCII have teamed up their efforts to bring security monitoring solutions to all ASCII members.
Features and Benefits
Fully Managed Security monitoring, detection and response as a service
Cloud based SIEM, 24/7 SOC, and IRT all-as-a-service
Advanced Analytics, Compliance, and Executive Summary Reports
Log Management, Log Storage, and Log Archival
PCI-DSS, SOX, HIPAA, FISMA, GLBA, ISO, NERC, GPG13
Forensics and Incident Response
Over 250 products supported (e.g., Firewalls, Domain Controller)
Integration with ConnectWise and many CRMs
White Label service for IT Security
One month opt out option – Cancel anytime. No penalty
Is Vijilan Security Services right for my customer?
Is Vijilan Security Services right for my customer?
Vijilan has the infrastructure, technology and experts in-place. This allows you to sell cost-effective 24/7 detection, analysis and remediation cyber security services to your clients. Our expertise is based on years of threat intelligence and we're 100 percent channel, so you can rely on a long-term, trusted partnership with Vijilan Security.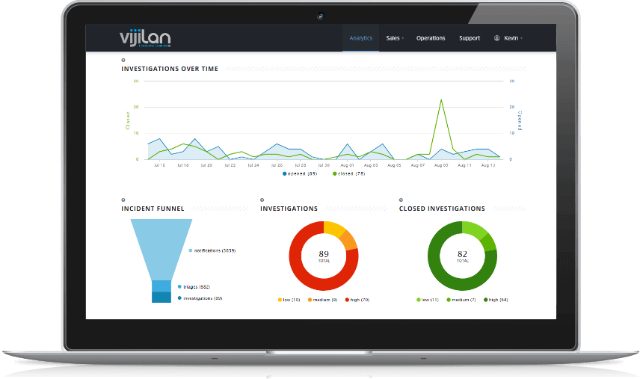 Partnering with Vijilan
These are just few things you get when you partner with Vijilan!
Use the Promo code VIJIASCII
It is my pleasure to welcome ASCII as a strategic partner of the Vijilan family. Together we have worked carefully to create a mutually beneficial agreement where ASCII members can enjoy Vijilan's world class service at a discounted rate.
It is important to us at Vijilan that we provide ASCII members with a world-class security service. To that effect, Vijilan is dedicating a special team of employees to ASCII in order to cater to members who need to provide security monitoring solutions to their valued customers. As you know, Vijilan offers a fully managed security monitoring solution which operates 24/7, combined with our world class Security Operations Center (SOC) in our Fort Lauderdale facility and an Incident Response Team (IRT). This being said, ASCII members know they have provided the best possible security solution to their customers.
We at Vijilan look forward to a prosperous partnership with ASCII and are here to answer any and all questions you may have.
The ASCII Advisory Board and Team are proud to announce our new partnership with Vijilan Security. As an organization, we are continually looking to provide improved value to our members that are geared towards increasing recurring revenue.
To that effect, we believe that offering a fully managed security monitoring service to our valued members, VARS, MSPs, and solutions providers will undoubtedly have a markedly positive influence on their bottom line. In order to achieve this the partnership we have agreed upon in conjunction with Vijilan Security will allow our members access to their world class services at a reduced rate.
At ASCII we understand the importance of combatting an ever evolving cyber threat landscape. By partnering with Vijilan our members will now gain a stronger foothold in the cyber security space. This will allow members to become more competitive and offer their clients greater peace of mind.